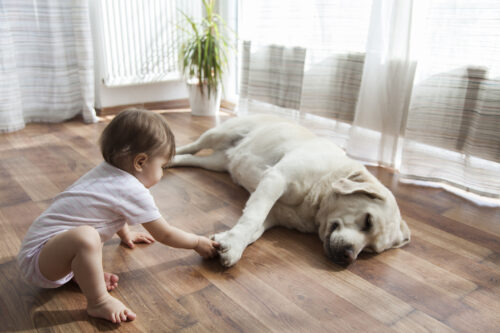 Are you considering new floors this year? New floors are a big decision whether they are for your whole home or just a few rooms. They're not something you want to replace often, so it's important to make your decision with confidence. One thing to take into consideration is current flooring trends so, should you need to sell your home, it has contemporary and desirable flooring. Here are some flooring trends you should be aware of before you choose your new flooring material and style.
Wood Floors
Hardwood flooring never goes out of favor, although popular finishes and wood types do change over the years. In 2020 the most popular wood flooring finishes are dark and cool tones like greys and grieges. If you are installing new flooring in a small space, you may want to consider a white-wash finish or even a natural finish. As for plank size, opt for planks at least four inches across and varied-length boards for the best look.
With so much focus on the environment, another big trend is reclaimed hardwood flooring. When you choose reclaimed flooring or barnwood that's been planed and prepped for flooring, your environmental impact is much less than it would be with new flooring. Most of the older barnwood and flooring is also harder than hardwood available today. There may even be a fun story behind the wood that your flooring company can share with you.
Tile Trends
In Florida, especially, tile flooring is always in. However, not all styles or types are part of the current flooring trends. If you're considering tile, you may want to look into one of these options:
Wood-look tile: Because wood floors are one of the most popular options in flooring, wood look tile is a great waterproof alternative.
Large format tile: Large format tiles in porcelain, ceramic or stone are all popular again this year. Keep in mind that you'll spend more on installation of larger tile.
Marble-look and marble tile: Marble is a trending material, especially in bathroom remodeling. If you choose this for your flooring, make sure it's non-slip.
Patterned tile: Although black and white patterns are the biggest trends, other contrasting colors are also popular.
Resilient Flooring
If you need something durable and easy to stand and walk on that's also low maintenance, consider a resilient flooring like luxury vinyl tile (LVT). You can find LVT in almost any pattern and color from wood-look planks to large format tiles. Most are highly water resistant and some have non-slip finishes which are great in bathrooms and other areas where water may be a reason not to consider wood.
No matter what type of new flooring you're considering for your home, Seer Flooring can help. During our free consultation we can help you decide on the right material and finish, and we can provide a free quote. Our teams are experienced in installing hardwood, engineered wood, tile, and LVT. We offer many fine brands and options. Call us today at (727) 469-7963 or fill out our contact form to schedule an appointment.