The Best Tile Flooring Installations in the Tampa Area
Tile flooring is one of the most durable of flooring options on the market today. It's particularly practical when you're living near or on the beach, or if you have family or pets running around your kitchen, foyer, or other rooms in your home. It's simple to clean and it's not easily damaged by water or sandy feet. And it looks terrific! 
At Seer Flooring, we understand the texture, color, and "character" a tile floor can bring to complement any or all the rooms in your home, especially your kitchen, bathrooms, laundry room, or entryway.  When it comes to a variety of exquisite choices, Seer Flooring is number one in the Tampa Bay area.
Since 2008, Seer Flooring's team of skilled tile flooring installation professionals has built an exceptional reputation for installing impeccable high-end tile flooring in homes around the greater Tampa Bay area.  
From the reds and pinks of Italy's Tuscan villages to the intricate patterns of Viennese ballrooms, to the simplicity of the Scottish Highlands, tile flooring can truly bring life and individuality into a home. 
Tile flooring also offers homeowners:
Durability

Protection from water damage. It's virtually impervious to water damage, even after prolonged exposure

Resistance to scratching 

Long-term value

Versatility in color, tints, and has a wide variety of design or pattern o

ptions
The "Personality" of Tile Flooring
Tile flooring's really got personality!  It can be warm and bring light and sunshine into your home. Or it can be simple and straightforward.  Tile flooring can not only reflect your personality as a homeowner, it can also reveal the inner nature of your heart.  
Want to enhance the look of your home?  Upgrade or increase your home's value?  Are you building a new home or are you just in the market for a change in your current flooring?  
Whatever choices you're making for new construction, whatever home improvements you'd like to create, whatever your lifestyle or budget, whether you choose ceramic, marble, porcelain or other types of tile flooring, the flooring specialists at Seer Flooring promise to deliver the quality and high standards of Old World, hands-on craftsmanship, transforming any room into a warm, comfortable, and personality-filled living space.
Our experienced team of tile experts can help you bring your vision to life.  From completely new tile installations, to tile repairs, to single tile or whole floor tile replacements, we offer a wide variety of tile designs, colors and patterns installed with unmatched craftsmanship. 
We offer many colors and styles of tile to choose from:
Ceramic 

Porcelain

Glass 

Cement 

Marble 

Mosaic 

Granite 

Limestone

Terracotta

And Other Natural Stone
Once you're ready to start your project, our team will guide you through every step of the tile installation process, from tile selection to installation to aftercare. 
First, we'll schedule an appointment for your no-obligation, in-home walk-through, and tile installation estimate.
Next, we'll advise and offer suggestions to help you select just the right

tiles for your lifestyle, taste, décor, and budget. We can bring samples, including many different selections of tile styles, patterns and colors.
Once you've made your decision and your order is placed, we'll keep you informed of delivery dates, and schedule your installation.
Finally, we'll walk you through step-by-step aftercare instructions so that you can keep your tile floors looking brand new and free from any blemishes from wear and tear, spills, or stains.
Proper Care and Maintenance
With proper care and maintenance, tile flooring can retain its color, texture, and shine for a lifetime.  
We suggest several ways to keep your tile floors looking like new:
Dust Mops and Vacuums

. Use a soft dust mop or vacuum with a brush attachment to remove dirt or dust before it becomes embedded in your tile and grout.  
Grab the Mop

. 

Use a mixture of lukewarm water and mild dish soap once a week to maintain your tile's gloss, color, and sheen. Be sure to prevent accidents by drying the floor afterwards though.
Rugs or Doormats Are Helpful.

  For high traffic areas, the addition of a doormat, bathmat, runners, or an area rug can keep your tiles from getting dirty or dull.  It can also prevent scratches.
Wipe It Up. 

Use cotton dishtowels or other absorbent cloths to wipe up spills to avoid dirt collection. Rinse with clear water, then dry to prevent slipping.

Deep Cleaning.

  It helps to deep clean your tile floors occasionally. Deep cleaning removes any residue from cooking grease, and it can remove spot blemishes or stains.  It also brightens up the tiles and brings back their original patena.

Don't Forget the Grout.

 

You don't have to buy any special or expensive cleaners to bring grout back to its original color. All you need is a mixture of water and baking soda combined into a paste. Spread the paste mixture onto the grout and let it sit overnight.  The next day, you can use a soft bristled brush or an electric drill with a soft brush attachment to scrub the grout clean.  When you're finished scrubbing, just rinse with plain warm water.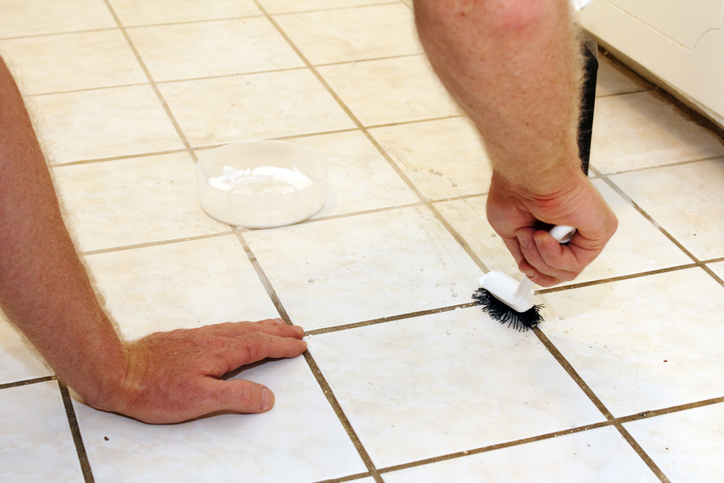 Bring the Exquisite Look of Tile Flooring to Your Home
Seer Flooring not only offers tile flooring installations in Tampa, we also service the Sarasota, St. Petersburg, Tarpon Springs, New Port Richey, and Trinity areas from our Clearwater and Palm Harbor offices.
Our stellar reputation in the flooring industry makes Seer Flooring the Number One choice for tile flooring in North Florida!  Give us a call today for an absolutely free, no-obligation home walk-through and tile flooring installation estimate. 
Palm Harbor:  727-469-7963 |  Clearwater:  727-785-1930 | Sarasota:  941-242-7337