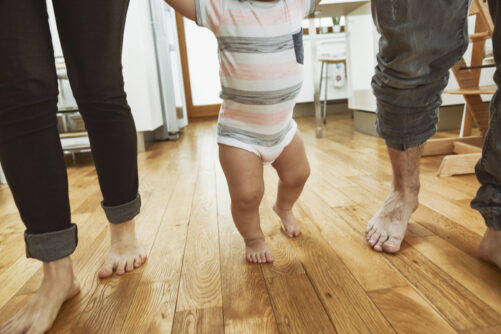 There are many reasons you may prioritize durability as the most important feature for your new flooring. Perhaps this may be of high value to you because of a large pet or because your kids play hard on the floor. Or maybe you're remodeling a home for rent and want durable flooring so you don't have to replace it after every tenant. If durability is important to you, let your flooring company know so they can help you choose the best one for your needs.
Options
You do have options. Although many homeowners think of tile as the most durable flooring option, it's not the only choice you have. Tile is virtually waterproof, scratch resistant, and comes in many styles, but it can also crack. If you're looking for an option besides tile, here are some other types of durable flooring you can consider:
Concrete — Many homes in this area are built on a slab which means you already have the base for concrete flooring. They are durable, but are also susceptible to moisture and slippery when wet. Finish options are virtually limitless with concrete stain.
Laminate — A quality laminate is durable. It also can look very good and withstand almost anything. Many landlords choose laminate over tile because it doesn't crack like tile. Homeowners tend to steer away from laminate as it can sometimes be challenging for resale.
Luxury Vinyl Tile — Available in both tile and wood-look options, this flooring type is very durable and looks great. The greater the wear layer and stronger the floor's core, the more durable it is. We recommend COREtec LVT.
Hardwood Flooring — When you choose a dense hardwood that's high on the Janka scale, hardwood flooring is nearly as durable as almost any other material except when it comes to water. And, if the finish dulls or if the floors becomes scratched, you can refinish it time and time again.
How to Choose the Right Durable Flooring
With so many options, you may wonder how to choose the right flooring. Here are some things to ask yourself or discuss with your flooring company that may help you decide.
How easily does this flooring dent or scratch? This is a concern mostly for families with pets and small kids.
How resistant to water is this flooring? If there's a pool or the beach outside, water may be a key concern.
Can it be repaired or restored? When you've been through a replacement recently and don't want to do it again, this question is key.
Seer Flooring can help you choose the perfect flooring for your home and budget. We offer tile, wood, engineered wood, luxury vinyl tile, and other flooring materials for your home, rental property, or business. Call us at (727) 469-7963 for your free, no-obligation estimate.