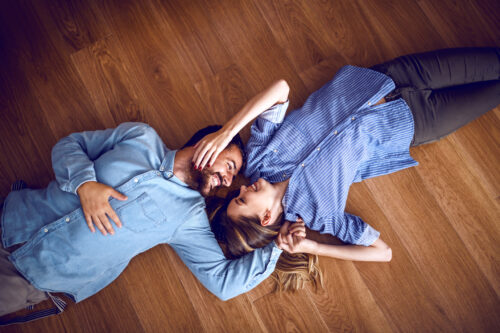 Whether you've moved into a home with engineered hardwood flooring or are considering installing them, you may wonder if it will be possible to refinish your engineered hardwood floors in the future. There isn't a simple yes or no answer to this question. There are many factors that influence a decision to refinish engineered flooring.
When purchasing engineered flooring, consider asking experts the following questions before buying: can this be refinished? If so, how many times? If you have engineered wood flooring that you'd like to refinish and don't have any information about the product, your local floor refinishing company will need to look at the floors in your home to decide.
How Many Times Can You Refinish Your Engineered Flooring?
A lot comes down to the quality of the product. Remember that engineered wood flooring has layers. Only that top layer is real wood. Less expensive and lower quality products have a thin top layer which is called a wear layer. Floors with wear layers of less than 2 millimeters should not be refinished. They can be recoated, however. Flooring with a wear layer of 2 millimeters or greater should be able to be refinished a limited number of times. Here is an estimate based on the measurements of the wear layer:
2mm – once or twice
3mm – two to three times
4mm – three to five times
Why the variation? It depends on the sanding process and how deeply the flooring must be sanded to remove the scratches and other imperfections. The heavier the sanding your floor refinishing company has to do, the less you will be able to refinish in the future.
Refinishing Options
If you're planning on keeping the color of your flooring the same, you may only need a screen and recoat. Some floor refinishing companies call this a buff and coat. This process lightly removes the topcoat and allows a new finish to adhere to the flooring. This won't change the color of the floors or remove deeper scratches. Your floor refinishing company can screen and recoat many times. In fact, this can be done more often than a full refinishing. This can also be done on flooring with a wear layer of less than 2 millimeters.
A total refinish allows you to keep or change the color of your flooring. It also removes deeper scratches as the floor refinishing company removes more than just the topcoat or finish. Be sure to hire only an experienced flooring company to refinish your floors. We've seen many do-it-yourself floor refinishing projects, and those done by inexperienced handyman services often end up needing to become full floor replacements.
We're Your Experienced Floor Refinishing Company
Whether you've discovered old hardwood flooring beneath carpet in a home you've just purchased or you have engineered wood flooring and want to bring back its original beauty, call Seer Flooring. Our team will evaluate your floors and listen to your vision for your home before providing you with a free quote. Call us today at (727) 469-7963 or fill out our contact form.