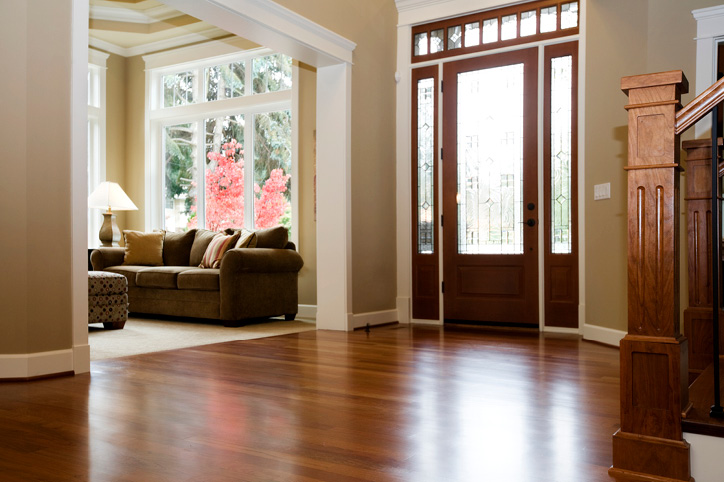 There are three general classifications of hardwood flooring finishes: water-based, oil-based, and wax. Although water-based are the most popular choice for homeowners today, all have different advantages and disadvantages. Because water-based is the most common, we're going to cover it in today's blog and the other two in our next post.
Why We Often Recommend Water-Based Polyurethane
Early on, water-based polyurethane was inferior to its oil-based counterpart. However, today, it's as durable and long-lasting as oil-based polyurethane. There are many reasons we recommend this most over all hardwood flooring finishes:
It requires less dry time between coats and less time to cure.
There are fewer VOCs (volatile organic compounds).
Varity of sheen options.
Truly clear finish, unlike the slight tint that some oil-based products develop with UV exposure.
Many homeowners find that although there is a smell associated with their new flooring, it's not as strong with a water-based poly as it would be with an oil-based one.
Why Isn't This the Only Option
As much as water-based polyurethane is a great option, it has its drawbacks. Perhaps the biggest is that it is more expensive than some other hardwood flooring finishes. In addition, it requires more coats than oil-based polyurethane for the same level of protection. That equates to a longer install time. Generally, smaller scratches in a water-based polyurethane are more visible than those in other types of hardwood flooring finishes.
Yes, You Do Need Some Type of Finish
Once we install your hardwood flooring, we stain it. Stain itself can't protect your floors the way it needs protecting. The finish provides increased resistance against water and scratches. Of course, no finish can make your wood floors waterproof or scratchproof. Your hardwood flooring finish keeps your hardwood floors looking better longer than wood with no finish.
Seer Flooring Can Help with Your Wood Flooring Needs
Whether you need new hardwood floors in Belleair, Clearwater, or need your Sarasota home's floors refinished, we're the only flooring company you need to call. We offer many high-quality hardwood flooring finishes and will help you choose the right wood species and stain if you're looking for new floors. Call us today at (727) 785-1930 in the Clearwater area or (941) 242-7337 if you're in Sarasota.