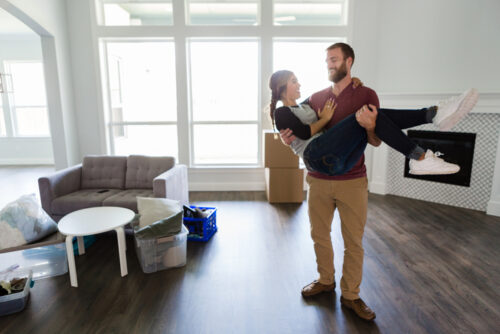 Vinyl has had a reputation overhaul! While vinyl flooring has often been confused with linoleum flooring, it is not the same thing. Also, though vinyl flooring of the past may have appeared less authentic than wood or tile flooring, incredible progress has been made in the way of improving the appearance over the last few years. Now, when you choose modern, high-quality luxury vinyl tile (LVT) products, you will enjoy many years with flooring that serves your home well and looks great at the same time.
Misconceptions About LVT
LVT and sheet vinyl do have some similarities. Both are made up of layers, and each can be manufactured to resemble other flooring materials. Additionally, both are fairly water resistant and easy to care for. However, when it comes to LVT and sheet vinyl flooring, there are many differences to keep in mind.
Luxury vinyl tile almost always has a thicker wear layer. The wear layer is the topmost layer and is what protects the flooring itself. Both products have this layer. With sheet vinyl, the wear is only 10–15 mils thick (less than 15/1000 of an inch). With LVT, you can expect a wear layer of at least 2mm but as much as 8mm (that's nearly a centimeter). This helps make luxury vinyl tile maintain its quality look longer.
There are significant differences in the quality of the print or image layer. This is what gives the flooring its style. LVT uses modern manufacturing techniques, so it has a more realistic appearance and is more able to closely mimic tile or wood floors. Some luxury vinyl tile or luxury vinyl planks even have a slight texture.
Sheet vinyl's final layer is the backing layer. This layer is often made of felt or fiberglass. LVT has both a fiberglass backing layer and a solid layer of PVC.
Luxury vinyl tile has additional layers. Between the print layer and the backing layer is a layer of foam which makes for a softer floor. There is also a clear coat or topcoat on the wear layer of LVT for additional protection.
What is the Difference Between LVT and LVP?
LVT and LVP (luxury vinyl planks) emulate tile and wood flooring respectively. The acronym LVT is often used to describe both products; however, they are technically different. Another acronym you may come across in your flooring search is EVP. EVP stands for engineered vinyl plank and is essentially the same as LVP. The difference there is the installation method since EVP is installed similarly to laminate flooring.
Seer Flooring Offers Quality LVP & LVT Products
We feature COREtec® Luxury Vinyl products for great style, design and durability. If you're interested in a free in-home consultation for LVT, tile, wood or engineered wood flooring, call (941) 242-7337 or fill out our contact form. We service the Gulf Coast from Sarasota County north through Pasco County.