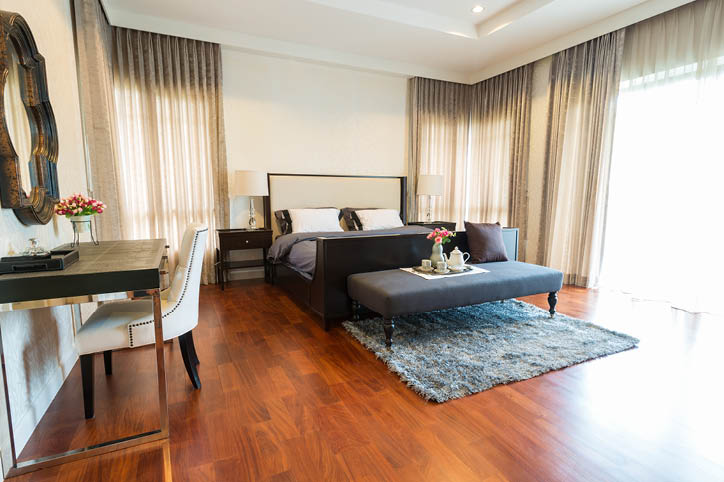 Hardwood floors are common in the main living areas of homes. Whether you have them in your living areas now or are considering wood floors throughout your home, you may be having a hard time picturing hardwood floors in a bedroom. That's not uncommon, but they are a great option throughout your home, for many reasons.
Simplicity of Maintenance
Perhaps the strongest reason to consider hardwood floors throughout your home is simplicity. When you have the same flooring throughout your home, you know what care it needs, how often and when it may need replacing. When you choose hardwood, you'll have flooring that last for decades. Although it requires refinishing about every seven or eight years, that's less frequent than you'll need new carpeting.
Reduced Allergy Issues
When you think about the percentage of time you spend in each room in your home, chances are good that you spend the highest percentage in your bedroom. You may be asleep for a lot of that time, but you're there. Because carpets collect and hold on to pollen, dander and dust, if you suffer from allergies, a carpet can lead to worsening symptoms.
Change Your Style Without Changing Your Flooring
Hardwood floors in a bedroom allow you to easily change the style and décor. You no longer need to worry that the new paint, duvet or window treatments coordinate with the carpeting. Even if you plan a big change with new furnishings, you have a wide variety of options.
Why Doesn't Everyone Have Hardwood Floors in the Bedroom?
With many advantages, you may wonder why it's not standard for everyone to have hardwood floors in the bedroom. For many it's the fact that carpet feels nicer on bare feet than other types of flooring. Although that's true, most people with hardwood flooring utilize area rugs or throw rugs. Changing out area and throw rugs is much more affordable than new wall to wall carpeting. And, they're easier to wash thoroughly which cuts down on allergens. Some families have concerns for their small children who may fall out of bed which area rugs can help with too.
Let Us Answer Your Questions
If you're looking for new flooring for your whole home or just a room or floor, call Seer Flooring today. With offices in Palm Harbor, Clearwater and Sarasota, one of our team members can provide you with the answers you need to select the right flooring for your home. Reach us at (727) 469-7963 and we'll get you scheduled for your free in-home consultation.