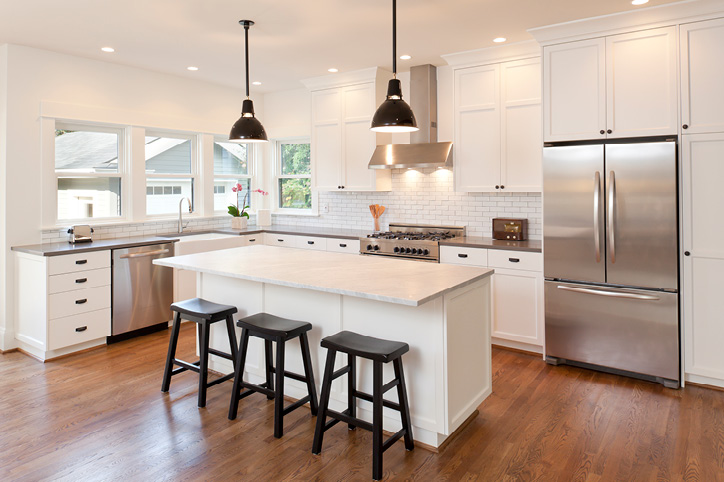 Most communities from Clearwater to Sarasota think first of tile as the right flooring for kitchens, even if they're putting wood flooring elsewhere in the home. And, although tile is an option, it's not the only option. For many, it's not even the best option. Whether you're building a new home or remodeling your existing home, here are three reasons to consider hardwood for your new kitchen floors.
1. Easier to Stand On
If you have tile floors in your kitchen now and have prepared a big meal, you may have noticed that your feet, legs and back are tired or even sore at the end of the day. That's because tile is harder than wood. It's tiring for your body to stand on. Wood is easier on your body when standing.
2. More Forgiving to Your Glassware
We're not saying that a dropped dish won't break if you drop it on wood flooring, however, it may not break. What we can assure you of is that your wood floor won't break if you drop something on it. One of the biggest complaints of homeowners about their tile flooring is that it breaks or cracks over time. Often when something is dropped on it.
3. More Cohesive Look in an Open Concept Home
If you're remodeling and opening up your living area, wood flooring throughout will give the space a better flow. Choosing tile in the kitchen and another flooring in the rest of the home will break up the space.
What About Water Damage?
This is a question we're often asked, and a valid one. Although wood flooring can be damaged by water more easily than tile flooring, it's not as delicate as you may think. As long as your floors are stained and finished and you clean up spills when they happen, you likely won't have damage from the occasional spill or pet accident.
Call Seer Flooring for Your Free Estimate
Seer Flooring can help you choose the right flooring for your home, family and budget. We offer not only hardwood flooring, but also engineered wood flooring as well as LVT/P and tile. Call (727) 469-7963 today to schedule your free estimate.