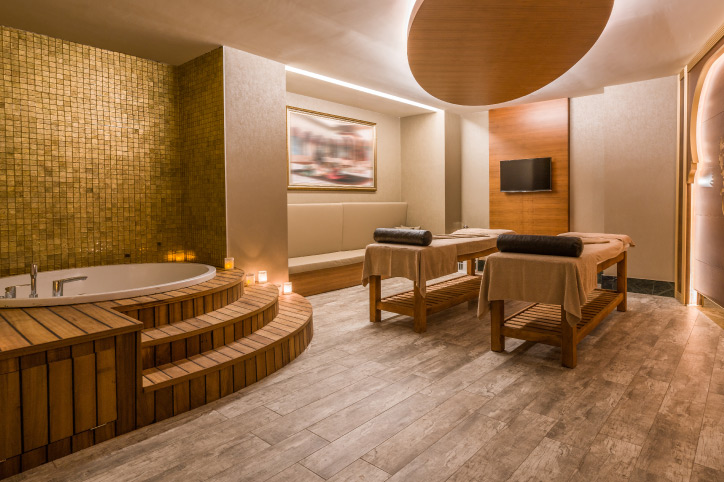 You and your architect and designer have put a great deal of thought into the layout and overall décor. The feeling you're creating for your spa is one of peace, tranquility and relaxation. You already know that color can help a person relax, but you may have only thought about wall paint, furniture and décor. However, your spa's flooring is just as important. It needs to compliment the look and feel that you're after in your spa. It also needs to be safe for both your clients and staff. How do you balance a safe, comfortable floor with one that looks great and contributes to the feelings you're after? By working with a commercial flooring company who understands that floors are more than just something to walk on.
Spa Flooring – Safety First
The term spa means a lot of different things. As a commercial flooring company, we've installed flooring in full day spas with many services to spas that only offer hair and nail appointments. No matter what type of spa you have, you want flooring that isn't slippery.
Durability Matters
As a business owner, you want your floors to last. Replacing floors means shutting down your business for days or even a week or more. It's also expensive. That's why you need to choose flooring intended for a commercial space. Most tile is both commercial and residential rated. However, luxury vinyl tile and laminate flooring meant for homes and businesses differ greatly. Only choose a commercial flooring product for your spa.
Consider Comfort
This matters most in spas that offer massage and styling services as staff spends a great deal of time on their feet. Avoiding fatigue and backaches from flooring may mean you avoid hard floors like tile, finished concrete, and natural stone. Or you supplement them with floor pads around each station.
Finally Choose a Look that Reflects the Style & Image You Want
With today's technology, you can get a floor that looks like hardwood, natural stone, or even tile in a variety of materials. Once you and your commercial flooring company have decided on a material that meets your safety and comfort needs, together you can work to find a durable product that has the look you and your designer envision for the space.
What is the Best Flooring for a Spa?
That very much depends on the type of spa, your budget, and goals for the space. At Seer Flooring, we frequently install luxury vinyl tile and plank, laminate, and various types of tile in spas throughout Sarasota, St. Petersburg, and Tampa. Call us today for a free consultation and quote for your new commercial flooring at (727) 469-7963 or fill out our contact form.