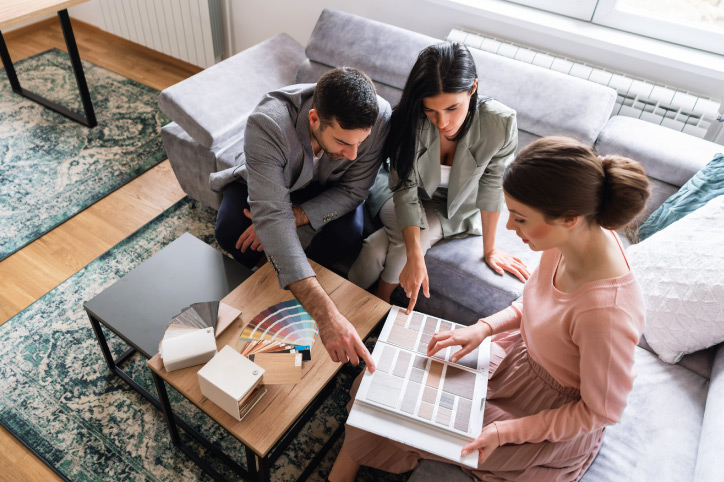 Although the new year may feel months away, it's nearly upon us. If you have a date in the first half of 2024 when you'd like your home renovation completed by, you need to start planning now. Whether your renovation is to your whole home or just a room, timelines are longer than ever before. Some projects, like kitchen and bathroom remodels are up to six months due to product and contractor availabilities. If you want a new kitchen, bathroom remodel, or to just update your home with a renovation, here is what you need to understand about average timelines and where various elements fit in.
Renovations, Big or Small, Typically Have Phases
Of course, a whole home remodel will take longer than a bathroom remodel for example. However, no matter how big or small your home remodeling project, you and your contractor or remodeling contractor will likely break the project into phases that look something like this:
Design & Product Selection – On average this takes one to two months. The rest of the timeline depends on the extent of the project and lead times of items you select.
Permits & Demo – Each municipality has different lead times on permitting. Demo can take up to a week.
Initial Construction – This phase may be skipped in more basic remodeling projects. In larger projects it includes moving or adding electric, gas, water, and sewage. Once the build out of this part of your project is complete, you'll need at least one inspection. Expect between one week and about one month for this phase.
Post Inspection Construction – Once you pass all inspections, your contractor can hang and finish drywall, paint and install cabinets. This requires about a week for smaller projects and up to a month for larger ones.
Flooring – Wood flooring that requires finishing needs more time than prefinished flooring or luxury vinyl flooring. Tile time requirements fall between the two. Expect 1 to 2 weeks total for anything other than a click-lock flooring product which can take a few days to a week. Remember, your flooring company may recommend waiting several days before walking on a new floor.
Finishes – Once construction is complete your contractor will replace trim, touch up any imperfections, and install cabinet knobs and hang towel bars and other accessories. This should be only a few days.
What Makes for Longer Renovation Project Timelines
Other than the sheer scope of a project, there are things that can increase your home renovation timeline. Although some issues may be the fault of the contractor's poor planning, others are out of their control. Here are some things that can lengthen a project's timeline.
Almost every home improvement project suffers from supply chain issues during the project. If you are willing to be somewhat flexible, you may be able to keep to your original timeline.
Change orders can seriously impact a project depending on when you make the change and what needs to happen. Changes that require a subcontractor may mean waiting on their availability and almost always require a new inspection which may also have a wait time.
Unique flooring installation patterns add beauty and drama to a room, but they also increase your project timeline (and budget). Your contractor should work this in during the initial planning phase but if they are using an outside flooring company, they may not realize the time difference in, for example, a straight lay versus a chevron.
It's hard for any remodeler to provide an answer to, "How long will my remodel take?" until the details are finalized. Even then, you are more likely to get a range. No matter what type of remodel you want, now is the time to start contacting remodelers for a quote so you can get on their schedule in the new year.
Seer Flooring Offers Many Flooring Types & Bathroom Remodeling
If you are looking for a bathroom remodel, we can do it all for you. As a local flooring company, we work with homeowners directly and with general contractors and remodeling companies. Once we understand the scope of your home remodel, we advise everyone involved on where flooring installation fits best in the project. If you're considering a home renovation that includes new floors, call Seer Flooring today at (727) 469-7963. You can also fill out our contact form and someone from either our Clearwater, Sarasota or Palm Harbor office will schedule your free in-home consultation.