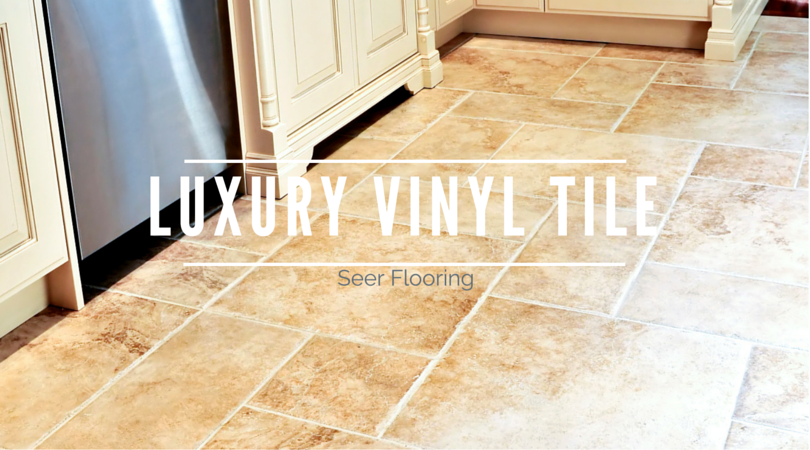 You're considering new flooring for your home and love the look of tile or wood but your lifestyle doesn't make either of those a great choice. Consider luxury vinyl tile (LVT) also known as resilient flooring.
Resilient Flooring: A Great Choice for Busy Families!
If you have kids or pets, you might want to consider LVT flooring for your home. Although vinyl floors have been around for about 75 years, they've only recently become popular again. Luxury vinyl flooring offers many benefits:
Comfort – The cushion-like feel underfoot is often preferred in kitchens not only because you spend a lot of time standing but also because when you drop a glass dish, it is less likely to break than it would be on ceramic tile.
Water Resistant – LVT stands up to spills better than wood making it a great choice for families with pets and small children. It is also perfect for pool bathrooms or back entries.
Durable & Easy to Maintain – You'll never need to refinish this flooring and you can clean it with virtually any non-abrasive cleaning product. It also rarely holds a stain.
Wide Selection – You can select LVT plank flooring to emulate hardwood floors or select a luxury vinyl tile to create the look of tile throughout your home.
Cost – For many homeowners, the lower cost of LVT is why they ultimately end up choosing it over hardwood flooring or ceramic tile floors.
Luxury Vinyl Flooring is Available in Many Styles
Perhaps one of the reasons for the resurgence in popularity is the newly available styles. We all remember growing up with vinyl floors that came in limited patterns and were immediately identifiable as vinyl. Today's LVT is available in some classic patterns but you can also choose a style that mirrors wood, slate, travertine, marble, or ceramic tile. LVT plank flooring can look like almost any hardwood and even comes in multiple board widths and lengths. The styles that are more tile-like in nature are available with textured patterns and grout lines can be simulated or real grout can even be used.
If you're interested in learning more about resilient flooring for your home, contact Seer Flooring and we'll share with you some options that fit your style and budget. Contact us today at (727) 469-7963 in Palm Harbor or (727) 785-1930 in Clearwater.