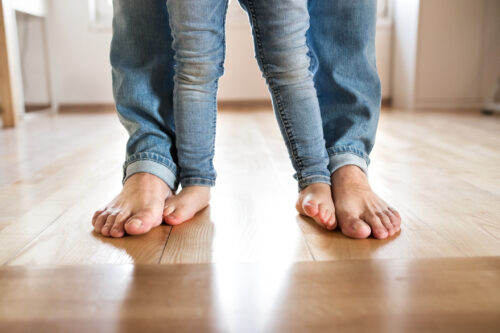 Not too long ago engineered wood flooring looked very similar to laminate flooring. As technology has changed, however, the appearance and quality of engineered wood floors has greatly improved. If you're trying to decide on the right type of flooring for your home, here are some things you should know about the engineered wood flooring of today.
Quality Finishes
Some homeowners consider both engineered wood and hardwood flooring and are surprised to find the costs after installation of each are comparable. Quality engineered wood floors can cost as much as some types of hardwood. Because engineered floors are finished in a factory, they often have multiple layers of stain and sealant making them more durable than an in-home finish for hardwood. Depending on the product line, an engineered product may be better in a home with pets and kids if scratches are a concern.
More Moisture Resistant
Today's engineered flooring is often more moisture resistant than hardwood flooring. This is mostly due to the pressure used in the manufacturing process. If you have a concrete slab, engineered wood flooring products are less likely to warp from foundation moisture. A good flooring company will still install a waterproof subfloor. When comparing hardwood with engineered wood using the same installation methods, engineered flooring tends to be less likely to buckle or warp in a home with moisture issues.
Some Can be Refinished
Although not all engineered wood flooring can be sanded and resealed, quality products with a wear layer of at least 2mm can be sanded and resealed. So, like hardwood, many of today's engineered products can be refinished at least one time. Keep in mind, however, this process only removes surface scratches or refreshes a dulled finish. The color cannot be completely changed.
Countless Options
One of the appeals of hardwood flooring is that it can be finished exactly as you want it, so there are many options. You may be surprised, though, at all the options available in engineered wood flooring. From traditional stains to whitewashing and distressed finishes, there is a wide variety offered by today's manufacturers. If you're looking for floors that can be installed and walked on within a day but want a specific style, you may be surprised that you'll likely find exactly what you want in an engineered product.
Seer Flooring can help you choose the right flooring material and install it for you. We sell and install tile, laminate, engineered, and hardwood flooring. We also refinish hardwood and engineered wood floors if you're not interested in replacing yours but need a refreshed look. Call us today for your free in-home estimate: (727) 469-7963.