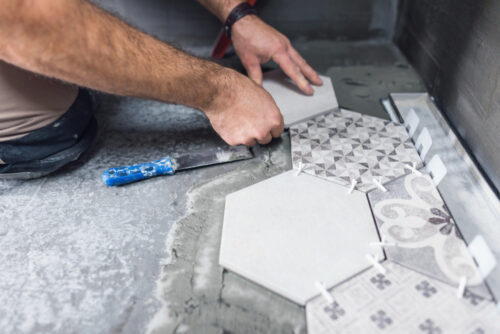 There are so many options when it comes to tile that it may be difficult to choose one you like the most for your home! Bathroom tile flooring styles are too numerous to count. But, if you have a color scheme you'd like to keep in mind, that helps narrow down the options. After choosing color, a good next step to take would be to decide on the shape of the tile. Here are some things you'll want to consider as you choose the shape of tile you plan on using for your bathroom flooring.
Overall Style
Start by considering other elements in the bathroom which contribute to the overall style to eliminate some tile shapes. For example, if you're going for a spa-like feel, avoid harsh lines, so square tiles aren't the best option. If you describe your space as rustic, beachy or farmhouse, consider wood-look tile with a long, thin rectangle shape. If you prefer a retro or modern look, almost any tile shape will be a good fit—but you'll want to convey this to your bathroom tile flooring company so they're able to install it in a manner that reflects the style.
Size and Shape of the Room
Your tile size should be proportional to the space. If you have a small half bath, don't choose large, oversized tile. To illustrate this concept, let's say you've decided square tile is the right shape for your bathroom. Square tiles are available as two-inch squares all the way up to 24" squares. If you have an average-sized bathroom of about 40 square feet, we wouldn't recommend anything larger than a 12" square. However, in a large master bath, you could choose even the largest tile.
Many bathrooms, especially secondary bathrooms, are narrow rectangles. You can use tile to visually elongate the room. If this is a goal, consider a rectangular tile laid so its short side is parallel to the door. This will allow the long side to visually lengthen the room.
Statement or Subtle
For some people, the flooring is a statement piece that pulls the whole space together. If this is your goal, look at some of the diamond, hexagon and octagon shaped tile. As you talk to your flooring company, ask about the variety of installation options for different shaped tile. They may even offer suggestions about mixing tiles to contribute toward making a stronger statement with the design. Conversely, if you just want your floors to remain subtle, a rectangular 1:2 ratio tile is a great option.
If you're looking for a flooring company who can install your bathroom tile flooring or provide a complete bathroom remodel, contact Seer Flooring. We've been a leading flooring company throughout Tampa Bay for years and also offer bathroom remodeling services. Call us today for your free consultation at (727) 469-7963 or fill out our contact form.