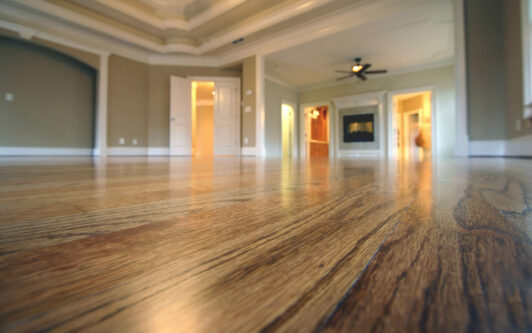 Deciding on hardwood flooring for your home is a great first step in bringing your vision for home to life. There are many considerations you will want to make when it comes to all the hardwood flooring options available to you. Typically, there are five things that will inform your hardwood flooring decision. They include:
Wood species
Plank width and board length
Installation pattern
Stain
Finish
Within those there are countless options, all of which will influence the look of your space. Here and in our next article, we're going to provide you with some guidance regarding these options.
Wood Species
Some of the most popular types of hardwood flooring include red and white oak. They're popular because they're available and affordable. Both are relatively hard woods on the Janka hardness scale which makes them durable in most situation. Other popular options include maple, hickory, black walnut, cherry and ash.
When you choose which wood species you want, we recommend you start with your budget. Types of hardwood flooring range from a little over $4 to $15 or more per square foot. From there, think about your lifestyle. Families with kids and pets often need a durable species with at least a 1200 Janka rating. The next consideration is appearance. Do you prefer tight graining patterns or wide patterns? By talking to your flooring company about your preferences and your family's needs, you can quickly narrow down your options.
Plank Width & Board Length
Today's most common plank width is three inches. You can find board widths ranging from two to 24". Keep in mind, the wider the plank, the more expensive the flooring. And some types of hardwood flooring are only available in narrow planks because of the age of the trees used. If you are set on wide plank flooring, you may want to consider reclaimed wood flooring or a synthetic product like luxury vinyl plank.
If you choose a flooring that indicates it uses standard length boards, that means the boards are between one and seven feet, with an average of three feet. The most common types of flooring comes in boxes of mixed lengths which makes every installation pattern unique. If you want longer boards or consistent-length boards, you'll pay more. This is typically only important if you're planning a unique installation pattern.
Seer Flooring Can Help
Whether you're still trying to decide what type of flooring you want for your home or if you are narrowing down your hardwood flooring options, call Seer Flooring. We provide a free in-home consultation and estimates to home and business owners from Tarpon Springs to Sarasota. Call us today at (727) 469-7963 or fill out our contact form. Stay tuned for our next blog where we'll discuss installation patterns, stains and finishes.