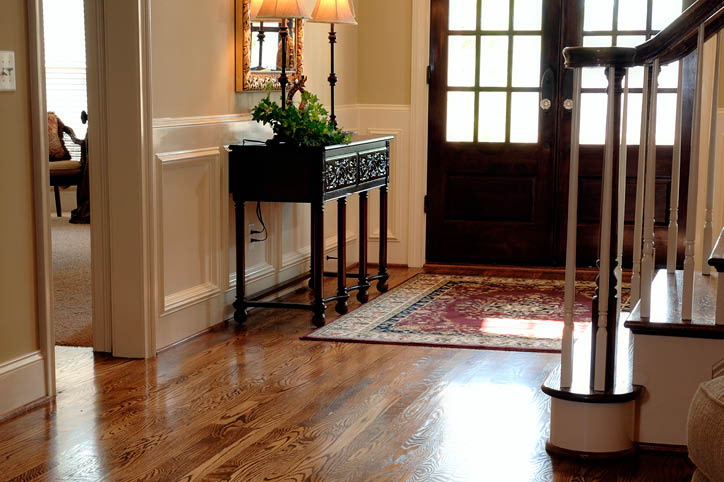 We know that not every home in Clearwater, Palm Harbor and Bradenton has a second floor, but more do than ever before. Because more homes have a second story, more homeowners are asking the question as to whether they should put the same hardwood on their stairs that they are planning for the rest of the home. Our answer is resoundingly, yes!
Easy Cleaning is the Biggest Advantage
Using a vacuum on a stair tread isn't easy. Lugging a heavy vacuum up the stairs isn't fun. However, it's easy to use a dust mop or broom. Even when it's time to mop, it's not a hardship because you can leave the bucket at the bottom and just carry the mop up and take care of it. Have you ever tried a carpet cleaner on the stairs? It's not easy.
They Create a Seamless Flow
The same hardwood on your stairs as your main living space creates a seamless flow from downstairs to upstairs visually. Even if you have carpet upstairs, the dynamic is different as the top of the stairs usually has a transition piece of wood to the carpet. Plus, not all your guests go upstairs.
What About the Cost?
Although at first glance it looks like you will spend roughly twice as much on hardwood stairs over carpet, let's look a bit deeper at the actual cost. Most carpet, especially on stairs, really needs replacing every 5-10 years. Your hardwood floors will last for decades. Even when you factor in refinishing your hardwood stairs, over the lifetime, your stairs with hardwood won't cost much, if any, more than stairs with carpet. Add in the return on investment that you'll see when you sell your home, and the cost difference is negligible.
Considering Hardwood Flooring in Your Home? Call Us
Whether you have hardwood floors and only want to talk about hardwood stairs or are considering hardwood flooring throughout your home, Seer Flooring can help. We have the experience and team to handle any size or scope flooring project. If you're not sure if hardwood stairs and flooring are right for you, we'll help you make the best decision based on your family, lifestyle and budget. Schedule an appointment today with Sean by calling our Palm Harbor (727) 469-7963 or Sarasota offices (941) 242-7337.