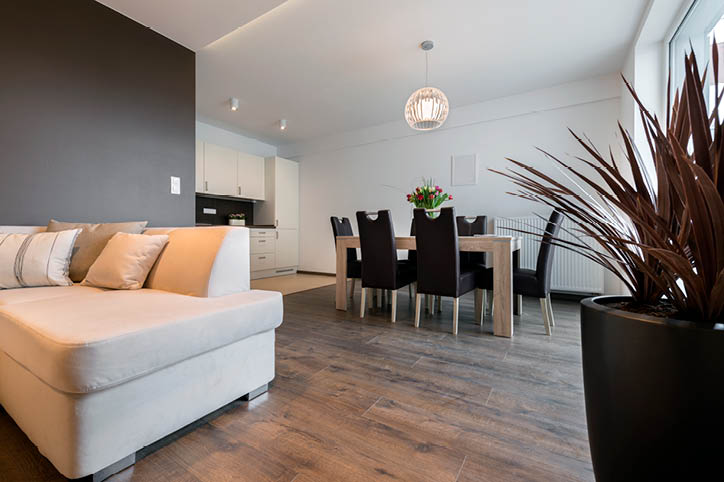 Whether you already have wood floors or are just considering new wood floors, you probably have questions. And, as an experienced flooring company in Clearwater, we have the answers for you. Here are some of our most frequently asked questions and their answers. Of course, if you have a question we haven't answered, check out our blog or ask during your free in-home estimate.
What is the Best Wood for Floors?
This isn't a question we can answer without getting to know your family and lifestyle. For some families we may recommend an oak, another may need something harder like hickory. The best wood flooring also varies with where you're going to put it. Sometimes, as much as we love real hardwood flooring, there are times when we may even recommend another product.
Can You Install Wood Flooring in a Kitchen or Bathroom?
We can. However, we don't often install hardwood flooring in a bathroom with a shower. As you likely know, when wood gets wet, it can warp, buckle or bow. A hall bath and kitchen don't have as much moisture as a bathroom where people shower so we're more likely to recommend wood floors in those.
How Long Will My Wood Floors Last?
Hardwood floors are meant to last a lifetime. However, they require some level of maintenance beyond just regular cleaning. Depending on the type of finish and lifestyle, you need to plan on refinishing your floors about every seven to ten years.
What is the JANKA Hardness Scale?
In short, it's a measure of how hard a species of wood is. The hardness test is a measure of how much force is required to press a .444 steel ball into a piece of wood. It matters because you don't want your wood floors easily dented or scratched. The best wood flooring for your home may be different than that of someone with large dogs or who entertains a great deal.
Seer Flooring Can Answer Your Flooring Questions
If you still have questions, call Seer Flooring for your free in-home estimate. We'll clearly answer your questions regarding the best wood flooring for your home, family and budget, the right finish, and any other questions you have. Call us today at (727) 785-1930 or fill out our contact form.