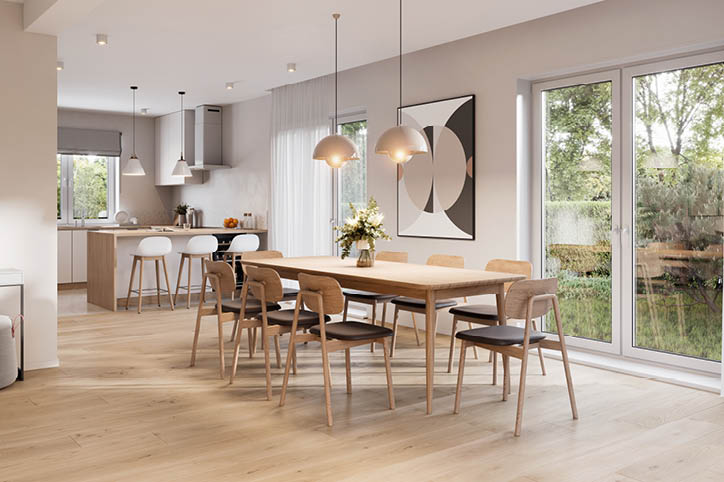 If you've spoken with a flooring company and they've provided you with a flooring estimate, look at it carefully. Besides the company name, address, phone number, and final price, you want the quote to be detailed and include certain elements so that you're protected in the event they don't follow through with what you expect. Here is what to look for.
1. All the Details of Your Flooring Materials
For hardwood flooring, you want your flooring estimate to include the wood species, board width and length. It should also include the stain color as well as the finish or topcoat type as well as number of coats. If you've chosen engineered wood floors and other flooring types, make sure the brand, style and color are detailed.
2. Included Work on the Subfloor & Details of the Underlayment
Some flooring installations require work on the subfloors. Whether this is included in the flooring estimate should be detailed on the quote. The flooring company should also include the type of underlayment if one is included.
3. Whether Removal and Disposal of Your Existing Flooring is Included
Budget flooring companies make their quote look cheap by not including the cost of removal and disposal of your existing flooring material or carpet. This may be disclosed in fine print or not at all. Don't get caught with an extra fee after they have already removed and disposed of your old flooring.
4. Their Workmanship Guarantee
Any good contractor includes a workmanship guarantee on their work in addition to the manufacturer's warranty. The length of the guarantee varies but it should be detailed in writing in the flooring estimate, especially if their estimate is also their contract that you sign to accept their proposal.
5. Expected Timeline
Like everything these days, the flooring companies are at the mercy of the manufacturers when it comes to a start date of your job. However, they should include how long the job will take once they begin. You may even be provided with a detailed timeline. It may include how long the tear out and prep work will take, the actual install of the flooring material, staining and finishing of the hardwood flooring, as well as how long you will need to wait before walking on the floor and how long before placing furniture. However, they may wait until they start the job to provide those details.
Seer Flooring Always Provides Detailed Written Estimates
As a trusted and experienced flooring company, we know that the more information we provide you, the better you are able to make an informed decision. When you call us for a flooring estimate in Palm Harbor, Clearwater or the Sarasota area, we provide detailed and complete information. Call us today at (727) 469-7963 or fill out our contact form.