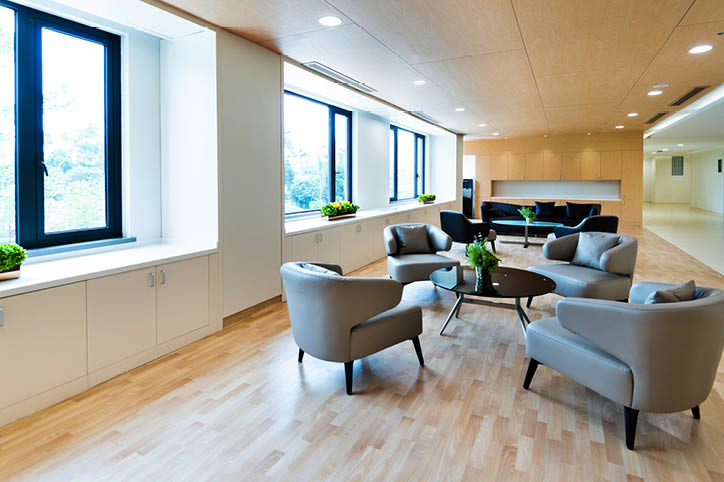 Many people think of doctor's offices as cold and institutional. And that's because, in many cases, the offices have harsh lighting, white walls, and generic vinyl flooring. For many, it's hard enough to walk into a physician's office. It doesn't help that when they arrive, it feels cold, impersonal and sterile. If you're designing or remodeling your medical practice think about how to make your patients feel comfortable from the moment they enter.
Remake the Waiting Room
As much as we don't want the patients in the waiting room for too long, it's often the first place they'll sit and look around. Start with a soothing paint color in a warm tone rather than a harsh white or cool grey. Then add some comfortable furniture with a pop of color. Wall hangings can add visual interest and keep your patients mind off their reason for the visit. No one wants to read promotional material while waiting. Live plants also add to the comfortable feeling you want for your patients.
Re-evaluate Flooring Options
Although people may not look at your floors, think about how some synthetic materials sound when walked on. Vinyl is often the go-to option in medical facilities because it requires little care. However, it doesn't do much for warmth or style. And walking on vinyl and cheap laminate sounds loud and hollow. Instead think about how wood flooring looks. Wood, including engineered wood floors and wood-look flooring, creates a warm-feeling space.
Rethink Your Lighting
Of course, in practices where special lighting is necessary for in-office procedures, you'll want traditional medical-type lighting. However, that doesn't have to be the norm throughout the space. LED lights offer the option to change the temperature of the light from cool to warm.
Let Seer Flooring Help You Choose the Right Flooring for Your Medical Practice
We're best known as a residential and commercial flooring company in the Palm Harbor and surrounding areas, but we work with businesses throughout Tampa Bay, Clearwater and Sarasota too! Whether you're remodeling or planning a new office, let us provide a free consultation and estimate for your office floors. We offer many materials and brands so we can help you create the look you want with the durability and functionality you need throughout the practice, even if that means more than one material. Call us today at (727) 469-7963 or fill out our contact form.