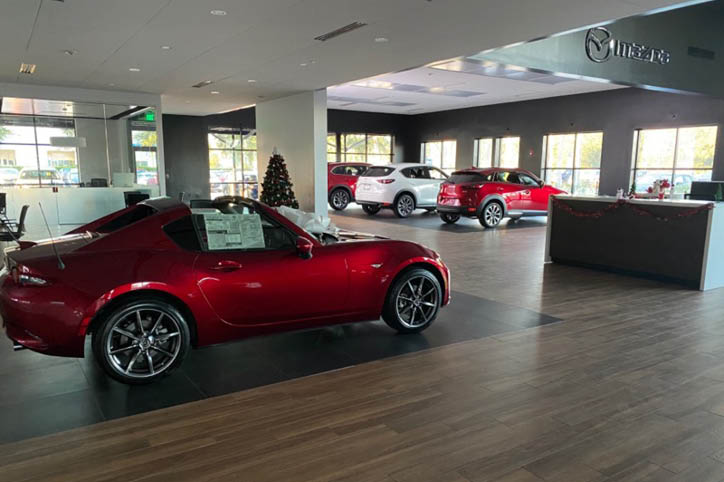 A car sale today is about much more than just moving a car from the lot. In many cases you're selling a lifestyle, an adventure, or quality family time. Although the showroom and service center require their own flooring material, that's not true of the rest of the dealership. In fact, whether you're selling a luxury or economy line of cars, you want your potential customers to feel welcome and at home. You and your designer and architect have likely talked through how the flow of the space and the colors within can impact a buyer, but have you talked about what commercial flooring material or materials you'll use?
Different Areas Need Different Commercial Flooring
During the different phases of the car sale your potential buyer will visit different areas of the dealership. Although not all will see the entire space, most who become customers will. Many dealerships today at a minimum utilize different styles of commercial flooring in different areas. However, you may want to consider different materials for different areas too. For example, tile is a great option in the bathrooms and lounge for easy clean-up of spills or dirt. But, because you want a different feeling in the sales and financing areas, consider luxury vinyl plank to create a feeling of warmth that tile doesn't. Commercial grade laminate is another often used product in the business area of dealerships.
The Importance of the Right Flooring
People buy cars every day. Sometimes it's hot and sunny and other times it's raining. You already know that you need flooring that withstands high traffic. Whatever you consider needs to reduce the chances of a slip and fall accident when it's wet. However, have you considered how the sound of the flooring can impact someone's impression of your space? Cheap flooring can sound hollow. It may also take a greater degree of maintenance to keep it looking great. When you work with a commercial flooring company who understands car dealerships and all that goes on within, you're more likely to end up with flooring you love and that adds to the feeling you're looking to portray to your customers.
Seer Flooring Can Help
Whether you're still in the design phase or are remodeling your existing dealership, contact Seer Flooring. We sell and install many types of commercial flooring with great regularity. Let us help you create the dealership of tomorrow by calling us today at (727) 469-7963 for your free consultation and estimate anywhere in the greater Sarasota or Tampa Bay areas.