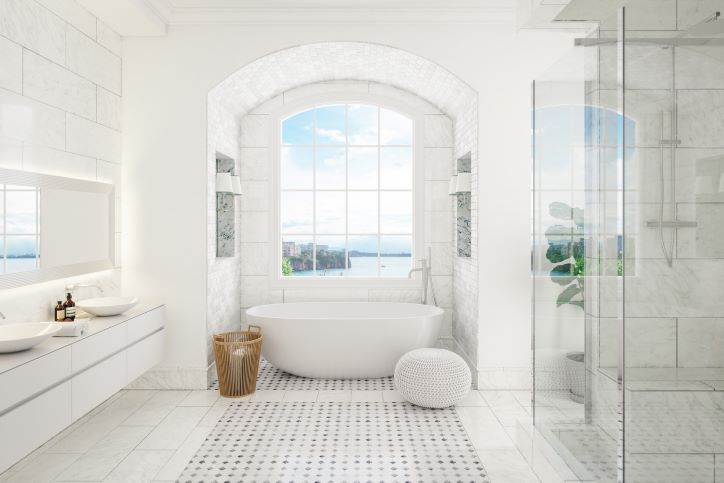 Have you ever walked into a home and been wowed by their tile flooring? If you have, chances are that the homeowner and their tile flooring installers took the time to carefully choose not only the tiles themselves, but also how they were laid out in the home. The layout of tile flooring is called an installation pattern. Depending on the shape and size of the tile and the room, different installation patterns make a room look and feel different.
How to Make a Small Room Look Larger
If you want a space to appear larger, you have a few options. One is to install a square tile using a diagonal installation pattern. This installation pattern will cost more than a straight lay because your tile flooring installers need more tile because of the cuts they will do. However, it fools the eye and the room feels bigger. Another option is a Versailles pattern. Here you choose three or more color and size tiles and create a pattern. Depending on the size of the tiles and pattern, this can also be a more expensive option. The most cost-effective method is to choose a rectangular tile and install it across the room which will make it look wider. If you want it to look longer, install it lengthwise.
Ways to Create the Wow Factor in a Large Room
There are many ways you can create a visually interesting floor where your guests will be wowed. Two of our favorites are the chevron and herringbone patterns. Both work only with rectangular tiles that are long and narrow. Hexagon tiles are another option homeowners are loving again. There are many ways to create visually stunning floors with hexagon tiles including randomly placing different colors of the same tile or creating a pattern throughout the floors. Trying to stick to a tight budget? Consider a Harlequin pattern where you choose two contrasting colors of square tiles and have your tile flooring installers install them on the diagonal. Yes, it will cost more than a straight lay pattern, however, it's less than some of the other options.
Best Options for a Tight Budget
No matter what shape or color tile you want, different installation methods can require more overage and more installation time. Both of those add to your new flooring cost. Installing a rectangular or square tile in a straight lay pattern is generally the most affordable way to get new tile. However, it's always best to talk to your tile flooring installers about what you are thinking you want and your budget. Flooring companies have many tips and tricks to help your vision fit into your budget.
Trust Seer Flooring as Your Tile Flooring Installers
Although we're best known as a wood flooring company, we're so much more. We are also residential tile flooring installers and bathroom remodelers. We can provide you with a free quote for your new bathroom or just new tile throughout your home or in any room. Call us today for your free in-home estimate at (727) 469-7963. We service communities from Tarpon Springs through Sarasota from our three local offices.