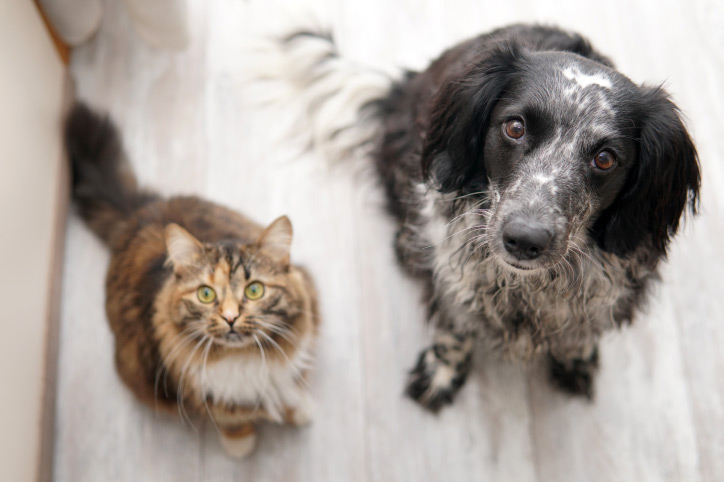 Asking what the best flooring is for pet owners is like asking what is the best food for pets. There are a lot of variables depending on the type of pet and their habits. Your habits, as owners, may also influence what you ultimately choose for your new floors. Of course, materials are one consideration, but you also want to think about color and maintenance before making a final decision.
Material
This is usually the first factor people consider. A lot of people think that tile flooring is the best flooring for pet owners because it's waterproof and scratch proof. However, it's not your only option with those features. And, tile can be slippery when wet which can make it less than ideal for larger and older pets. If your main concern is to find a flooring material that is less prone to scratches, you do have other options including:
Keep in mind that these floor types vary on which are water resistant or waterproof, so please ask these questions if that is a strong consideration for you.
Color & Finish
If you have dark pets, you may think that dark flooring is best of whatever material you choose. However, dark floors tend to show dirt and dust faster than light color flooring. A high-gloss flooring also shows more hair than a matte finish. We often recommend a lighter color matte flooring for our pet owners.
Maintenance
For many homeowners, the biggest issue with tile is the grout upkeep. If your pet comes in with muddy paws and transfers the dirt into the grout, it's there until you clean it. The longer you leave it, the more embedded it becomes. Many people think of wood flooring as difficult to take care of. However, if you sweep it a few times a week and run a damp mop over it as needed, you won't need to do much more until it's time to refinish it. And, refinishing doesn't always require stripping it down to bare wood, sometimes it's a much simpler process. Of course, luxury vinyl and laminate require sweeping and mopping as well but can't be refinished. If they are damaged, you're faced with replacing your flooring. As for natural stone, it needs to be sealed periodically in addition to regular cleanings.
What's the Best Flooring for Your Home?
Let the Seer Flooring team help you figure out the right flooring material, style, installation pattern, and color. Our experts have decades of experience helping homeowners throughout the Tampa Bay and Sarasota areas with their flooring needs. And, if you're looking to refinish your existing hardwood or engineered wood floors, we can help with that too. Call us today to learn more about our services and to schedule your free no-obligation consultation at (727) 469-7963 or fill out our contact form.