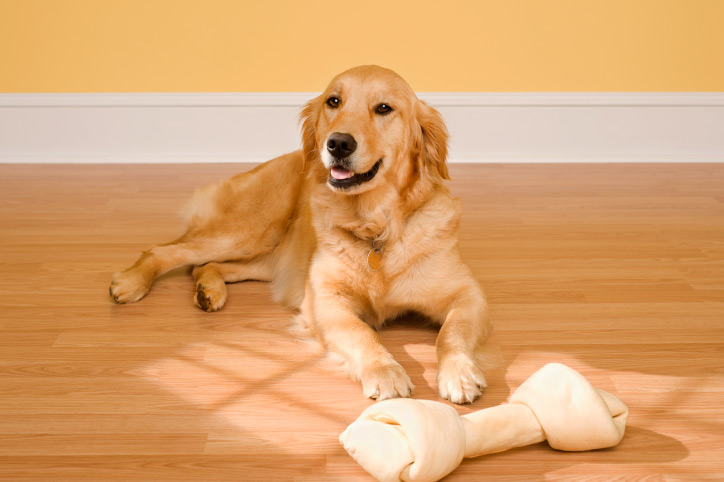 Wood flooring continues to grow in popularity throughout Tampa, Clearwater, Sarasota, and the surrounding communities. Although there are many misconceptions about wood floors, one of the most common is that it's not good for homes with dogs or really any pets. We install hardwood and engineered wood flooring in homes with pets of all types regularly and homeowners love them. But, it's best when we provide advice based on our experience and set proper expectations based on the pets and lifestyle.
Four Recommendations We Give Our Customers with Pets
Choose a wood species high on the Janka Hardness Scale
Opt for a lighter color stain and matte finish
Consider prefinished engineered or hardwood or an extra coat of finish
Consider distressed or reclaimed wood floors
Janka Hardness Scale
If you're looking at wood flooring, chances are good that you're at least a little familiar with the Janka hardness scale that rates the hardness of wood species. Heart pine, oak and ash are affordable harder woods.
Stain & Finish
We recommend lighter stain colors as light colors show scratches less than darker ones. As for finishes, matte finishes also tend to not show scratches as much and hide pet hair and dust to some extent.
Prefinished Products or Additional Finish Layers
And although we love providing our customers with a custom stain, prefinished products have a more protective layer because they are UV-cured in a fixed environment. If you can't find what you love in a prefinished product, talk to your flooring company about an extra coat of finish. You'll spend more up front, but the flooring will look good longer.
Distressed and Reclaimed Wood Flooring
Distressed wood flooring is flooring made with imperfections. It's a great look for many home styles and because there are already dents, dings and scratches, one that your pet adds to the mix won't stand out. Some reclaimed wood flooring is finished to perfection; however, others are not because they want the age to show making it similar to distressed wood floors.
Hardwood is an Option for Pet Owners
Just like any flooring, it needs proper care. Keeping it swept and dry is key. When you begin to have conversations with a flooring company, let them know your lifestyle and your concerns about any type of flooring. If you're looking for a no obligation consultation with an experienced flooring company, call Seer Flooring. We're locally owned and operated out of Palm Harbor. Reach us at (727) 469-7963 or fill out our contact form today.